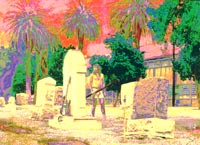 Produced by Richard Del Connor
Written by The Hippy Coyote
Directed by Richard Del Connor
Featuring the music of The Rich
Coyote in a Graveyard is the rock opera performed in Los Angeles in 1984 to 1988. The movie takes place in a hospital subsidized by the government where our hallucinating hero named Thumper falls in love with a homeless girl captured by the hospital. His visions aren't powerful enough to save Elaine... or are they?
The movie includes over a dozen songs by The Rich, all written by Richard Del Connor when he was known as "The Coyote."
Music SAMPLES:
"Out Of My Mind" by The Rich (from the soundtrack album)
"Out Of My Mind" by The Rich (live show 1984 while writing screenplay)
The Coyote In A Graveyard screenplay is available at Shaolin Records.